Meatball Mayhem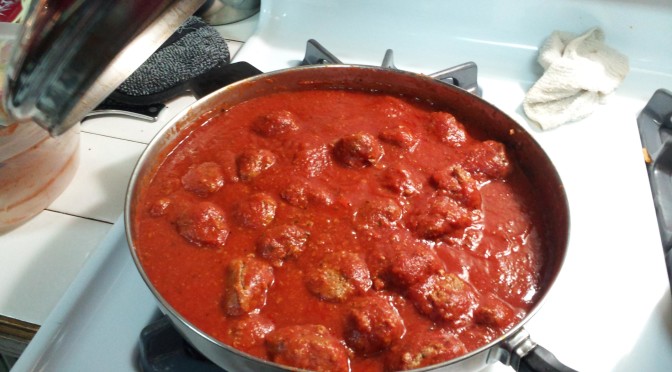 Ingredients
½ lb ground chuck
½ lb ground pork
1½ Cups shredded Swiss cheese, divided
1 egg, slightly beaten
1 small onion, chopped
1 teaspoon celery salt
¼ teaspoon nutmeg
¼ teaspoon allspice
3 Cups cooked rice, divided
1 (10 oz) can cream of mushroom soup
¾ Cup milk
3 garlic cloves, minced
½ Cup grated Parmesan cheese
Aluminum foil
Freezer wrap
Instructions
Place the ground chuck and ground pork into a large mixing bowl.
Add the egg, onion, celery salt, nutmeg and allspice.
Sprinkle in ½ C of the Swiss cheese and 1 C of the cooked rice.
Mix together well with your hands.
Form into meatballs.
Preheat the oven to 350 degrees.
Place the meatballs in a large baking dish.
Bake 25 minutes or until browned.
Place meatballs in the refrigerator for fast cooling.
In a large mixing bowl combine the remaining Swiss cheese, the soup and milk.
Add the garlic, Parmesan cheese and the remaining cooked rice.
Mix all together well.
Line a baking dish with aluminum foil.
Pour the Swiss cheese mixture into the prepared baking dish.
Place the cooled meatballs into the mixture.
Cover with freezer wrap and freeze for up to 3 months.
To reheat place casserole in the refrigerator overnight to thaw.
Preheat oven to 350 degrees.
Bake 45 minutes or until hot.
Meatball Mayhem
was last modified:
April 8th, 2014
by