Always good to make things in advance and have dinner ready in the freezer so you can just thaw it out and pop it in the oven.  I always omit the Worcestershire Sauce, because I am allergic to fish and it has anchovies in it.
Crispy Chicken from the Freezer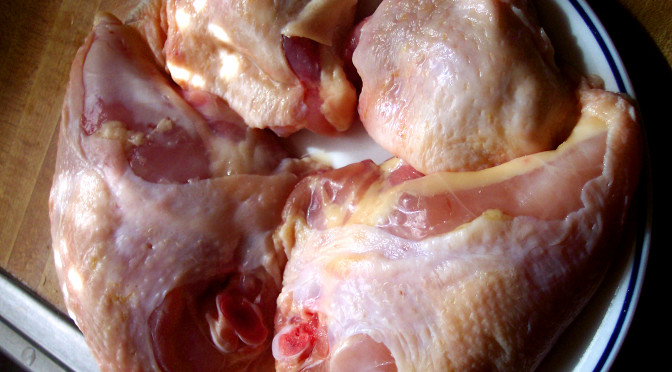 Ingredients
2½ lbs fryer chicken, cut up
¾ C sour cream
1 T lemon juice
1 t Worcestershire sauce
1 t celery salt
1 t salt
⅛ t pepper
½ t paprika
2 cloves garlic, chopped fine
1 C dry bread crumbs
Aluminum foil
Instructions
Combine sour cream and lemon juice in a small bowl.
Stir in Worcestershire sauce until completely blended.
Add the celery salt, salt, pepper, paprika and garlic and mix well.
Place bread crumbs in a shallow bowl or on a plate.
Preheat oven to 350 degrees.
Spray a large baking pan with a non stick cooking spray.
Dip chicken pieces into the sour cream mixture.
Roll in the bread crumbs.
Place in a single layer in the baking pan.
Bake 50 minutes or until chicken is tender and brown.
Let chicken cool before removing from pan.
Once the chicken has cooled wrap each piece in aluminum foil.
Freeze for up to 2 months.
Reheat by preheating oven to 450 degrees.
Place each piece of chicken still in the aluminum foil on a cookie sheet.
Bake 35 minutes.
Unwrap from aluminum foil and place back in the oven.
Continue baking 10 minutes or until crisp.
Crispy Chicken from the Freezer
was last modified:
April 8th, 2014
by