It is great to make the dough in advance, so you have it when you want a quick biscuit to go with dinner.
Clover Leaf Biscuits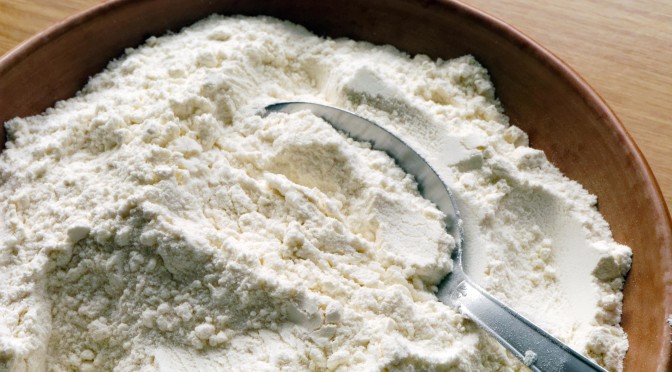 Ingredients
1¾ C warm water, should be 105 to 115 degrees (check with thermometer)
2 pkg active dry yeast
½ C sugar
1 T salt
1 egg
¼ C soft butter or margarine
6 C sifted all purpose flour
1 T butter or margarine, melted
Freezer paper
Instructions
Rinse a large bowl with hot water. We make the bowl warm to make it easier for the yeast to rise.
Add the water, yeast, sugar and salt and still completely to dissolve.
Add the egg, soft butter and 3 C of flour.
Beat together with an electric mixer on medium speed until smooth. You can stir this by hand also, if electric mixer is not available.
Slowly add 1 more C of flour and continue to beat another 2 minutes.
Add the remaining 2 C of flour to the mixture.
Use your hands to work in the flour.
Continue until all the flour is mixed in well and the mixture becomes smooth and elastic.
Brush the top of the dough with the melted butter.
Cover the bowl with a damp towel.
Place the bowl in a warm place and allow the dough to rise 2 hours.
The dough should double in size.
Punch down the dough.
Dough may be stored in the refrigerator 1-3 days before use.
Be sure dough stays covered and punch the dough once a day until ready to use.
When you are ready to make the rolls, remove ⅓ of the dough from the refrigerator.
On a lightly floured surface divide the dough in half.
With your palms roll each half of the dough into a 16 inch rope.
Cut each rope into 18 pieces.
Roll each piece into a smooth ball.
Place 3 balls in each of a muffin cup that has been sprayed lightly with a non-stick cooking spray.
When all the muffin cups are full, cover with a towel and place in a warm place.
Let rise again for 1 hour or until dough has doubled in size.
Preheat oven to 275 degrees.
Bake rolls 20 minutes.
Remove and cool completely.
Wrap in the freezer paper and freeze for up to 12 months.
When ready to use preheat oven to 450 degrees.
Unwrap rolls and place on an un-greased cookie sheet.
Bake 5 to 10 minutes or until light brown.
Clover Leaf Biscuits
was last modified:
April 8th, 2014
by