Cinnamon Rolls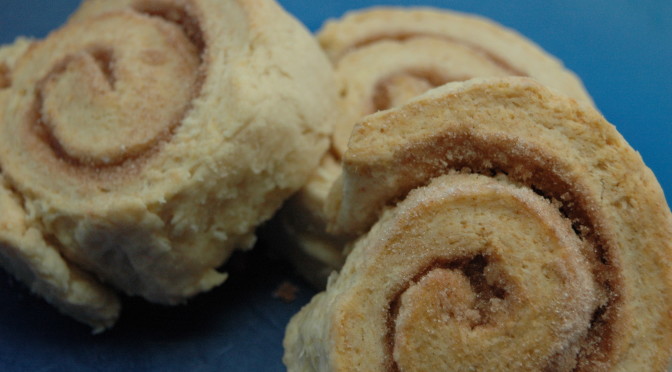 Ingredients
1 Cup Shortening
3½ Cups All-Purpose Flour
5 tsp. Baking Powder
1½ tsp. Salt
1 Cup Milk
1 tsp. Vanilla
4 Tbsp. Melted Butter
Cinnamon Sugar:
⅔ Cups Sugar
1 tsp. Cinnamon
Instructions
Pre-Heat oven to 400°F.
Cut Shorting in to Flour with a Pastry Blender until it resembles fine crumbs.
Still in enough milk so the dough makes a round ball (do not make dough too sticky).
Turn dough onto lightly floured surface.
Knead dough for 1 minute.
Roll dough out to approximately 13x9.
Pour butter on to rolled out dough and spread butter out evenly.
Sprinkle on Cinnamon Sugar.
Roll Dough and Slice off 1½ Pinwheels.
Place on greased cookie sheet.
Cook for 13 to 15 minutes.
Cinnamon Rolls
was last modified:
April 8th, 2014
by