This is one of my husbands favorite dinners.  I have put the recipe together in the regular form and if you go below the recipe you will find a step by step picture walk through.  I hope you enjoy this recipe as much as my family and I do.
Pizza Pie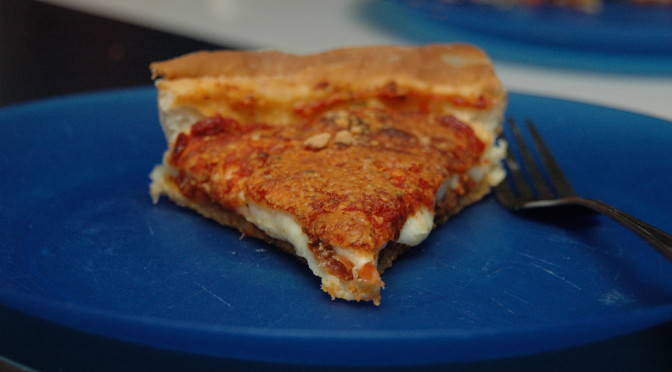 Ingredients
Dough http://www.dailycookingrecipes.net/pizza-dough/
1 Jar Pizza Sauce (1 jar will make 2 pizza pies)
2 Cups Mozzarella Cheese
Pepperoni, Bacon, Italian Sausage, Peppers, Onions, etc. (Your Favorite Toppings)
Parmesan Cheese
Instructions
Make Pizza Dough Per Instructions on this post http://www.dailycookingrecipes.net/pizza-dough/ - Divide in ½
Roll out ½ of dough to fit 9 round inch cake pan.
Place dough on greased cake pan.
Add Toppings(see list above for ideas).
Add Cheese.
Roll out other ½ of dough and place on top of pizza pie.
Tuck edges in and place air cuts in top of pizza dough.
Add Pizza Sauce to top crust and smooth out.
Sprinkle with Parmesan Cheese
Preheat oven to 425°F.
Cook pizza for 20 to 30 minutes on center rack.
Cut in to 8 pieces & Serve.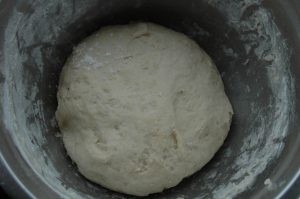 I like to let the Pizza Dough rise for about 30 minutes.  It seems to make it easier to work with.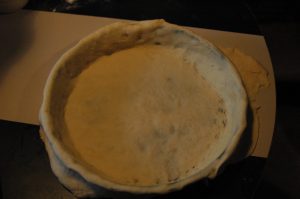 Roll out the dough and fit it to a 9 inch cake pan.  I use the cake pans because we live on a boat and don't have a huge selection of pans to pick from.  These seem to make a nice size Pizza Pie though.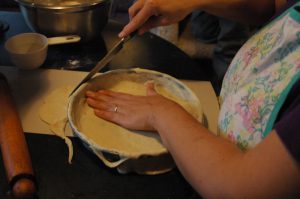 Now we need to cut the edges off the crust so we don't have all that extra dough hanging off the sides.  This also makes it easier to work with the pan, because you don't have that dough knocking in to things when you move the pan around.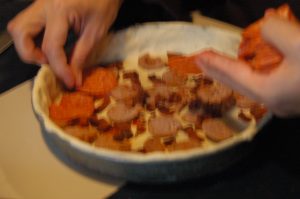 Add your topping choices.  Family favorites around here are Bacon, Italian Sausage, Pepperoni, Sweet Peppers and sometimes a little onion.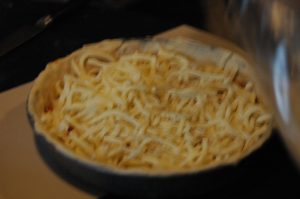 Then we add the Mozzarella Cheese.  LOTS of Mozzarella Cheese.  We like lots of cheese on our Pizza Pies.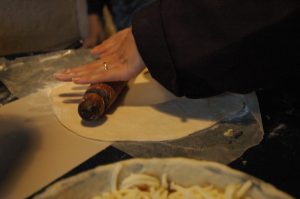 Roll out the dough for the top crust of the Pizza Pie.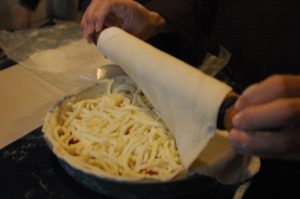 Then we cover the Pizza Pie with a top crust.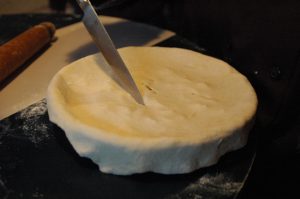 After you put the top crust on, make sure you put vent holes in it or the pizza will bubble and make a mess.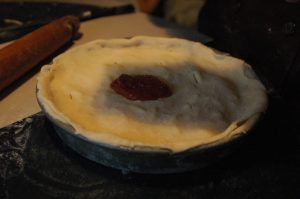 Add sauce to top of Pizza Pie.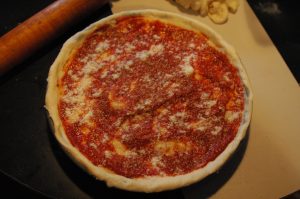 I like to sprinkle with a little Parmesan Cheese before we cook the Pizza Pie.  This adds a little extra cheese flavor.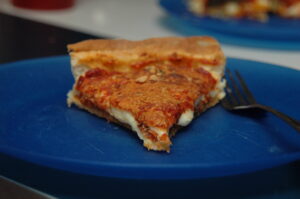 Cook at 425°F for 20 to 30 minutes.  The times really depend on the size and type of oven you have.  Mine usually takes the full 30 minutes, but we only have a small counter top convection oven on our boat.
Enjoy !
Pizza Pie
was last modified:
April 8th, 2014
by