Omelette with Cheese Sauce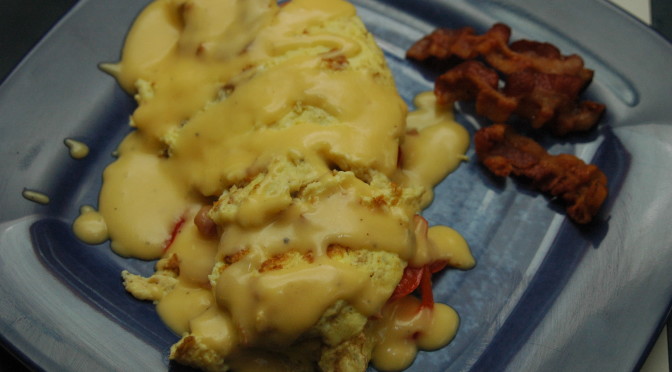 Ingredients
6 Strips of Bacon
1 Medium Onion
½ Sweet Bell Pepper - red for color
3 Pieces of Deli Ham - Diced
6 Eggs
¼ Milk
Salt & Pepper to Taste
Instructions
Cook bacon and pat grease of it. Wrap in aluminum foil to keep warm.
Saute on medium heat the Onions, Peppers, and a pinch of salt in the bacon grease. When vegetables are almost cooked, put in the ham to warm it. After they have cooked and are tender, remove from pan and pat dry to remove the excess grease.
Whisk 6 eggs together with milk, salt and pepper.
Coat the pan with bacon grease and put eggs in the pan and cook omelette over medium heat. Turn over once when ½ way done.
Remove from pan and place onions, ham and pepper mixture in the middle.
Cover with cheese sauce and server with 3 strips of bacon.
Enjoy !
link
Omelette with Cheese Sauce
was last modified:
May 29th, 2014
by