Scallops is one of my daughters favorite foods.  She would eat seafood all day every day.
Freezer to Oven Scallop Casseroles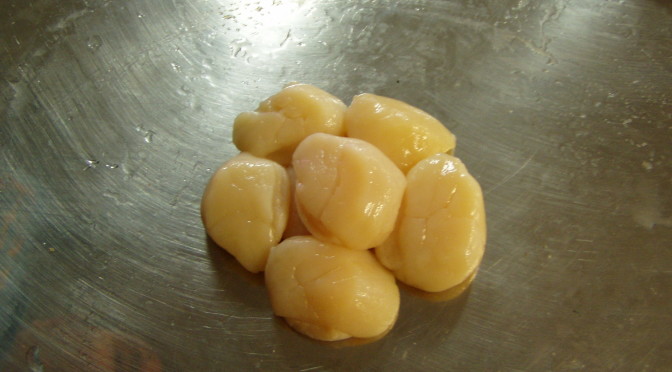 Ingredients
4 C (about 2 lbs) fresh scallops
¼ Cup butter or margarine
1 medium size green pepper, diced
1 medium onion, diced
2 celery stalks, diced
3 Cup bread crumbs
1 tsp salt
½ tsp pepper
2 Cup light cream
1 Cup shredded Sharp Cheddar cheese
6 small foil pie pans
Aluminum foil
Instructions
Place the scallops in a large saucepan.
Just cover the scallops with water.
Place saucepan over medium heat.
Bring water to a rapid boil.
When water is boiling rapidly remove from heat.
Drain scallops well.
Place the butter in a large skillet over medium heat.
When the butter has completely melted add the green pepper, onion and celery.
Cook, stirring often, 10 minutes or until vegetables are fork tender.
Place scallops in a large mixing bowl.
Add the vegetables.
Put the bread crumbs in a small mixing bowl.
Add the salt and pepper to the bread crumbs mix together well.
Add the bread crumb mixture to the scallops and vegetables.
Stir to combine well.
Place the scallop mixture into the 6 foil pie pans.
Allow to cool completely.
Once cooled pour ⅓ C of the light cream over the scallop mixture in each pan.
Wrap the pie pans tightly in aluminum foil.
Freeze for up to 1 month.
To cook preheat oven to 450° degrees.
Do not thaw the casseroles.
Place them wrapped on a cookie sheet.
Bake 45 minutes.
Unwrap and sprinkle each with cheese.
Continue baking for 15 minutes or until cheese has completely melted.
Freezer to Oven Scallop Casseroles
was last modified:
April 8th, 2014
by