Sausage Gravy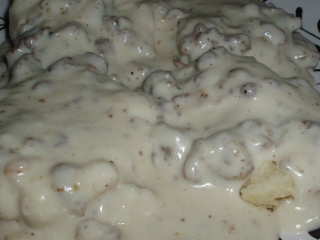 Ingredients
1 lb. pork sausage
⅔ cup flour
3 cups milk
½ teaspoon salt
¼ teaspoon pepper
Instructions
Cook sausage and remove from pan.
Add ⅔ cup flour to drippings in pan. Cook and stir over medium heat for 5 to 10 minutes or mixture starts to turn golden brown.
Slowly add milk stirring constantly.
Add salt and pepper.
Cook gravy until it boils and thickens.
Add sausage to gravy mixture.
Server over warm biscuits.
Sausage Gravy
was last modified:
May 21st, 2014
by