This is a great egg recipe that I know that you will enjoy. My husband and I first had this at Through the Grapevine Bed & Breakfast in Waterloo, NY .
Poached Eggs with Tarragon Cream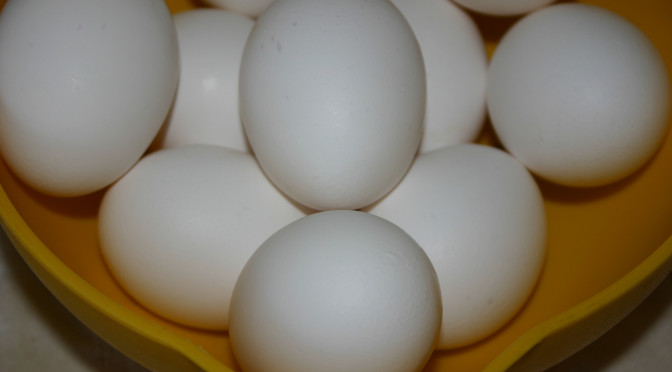 Variation: This is the original recipe. You may use an egg poaching pan which I think is easier. I also put a little of the Gruyere cheese in the sauce to add a little extra flavor.
Ingredients
1 shallot, chopped finely
2 Tbsp, plus 2 tsp butter, divided
2 Tbsp. flour
½ cup milk
½ cup whipping cream
½ tsp. salt
2 tsp. minced fresh tarragon
4 eggs
¼ cup shredded Gruyere cheese
2 Tbsp. bread crumbs
Instructions
Spray the bottom of a large skillet with non-stick spray or use a non-stick skillet. Fill the skillet three quarters full with water, bring to a boil.
Meanwhile, cook the shallot in two tablespoons of butter in saucepan over medium-low heat until softened.
Stir in flour until blended and slightly cooked one minute.
Stir in the milk and cream.
Heat to boiling, stirring constantly, then boil and stir one minute. Stir in the salt. Remove from the heat. Stir in the tarragon. Cover and set aside.
Heat oven to 375 degrees.
Reduce boiling water to simmer. To poach the eggs, work with two at a time. Crack the first into a bowl then carefully pour into the water. Cook until the whites are set and remove with a slotted spoon to a small buttered ramekin. Repeat with the remaining eggs.
Divide the tarragon sauce between the ramekins, spooning over the eggs, and then sprinkle with the cheese and bread crumbs. Bake until hot and bubbly about 10 minutes.
Poached Eggs with Tarragon Cream
was last modified:
April 10th, 2014
by