Fruit Custard Tart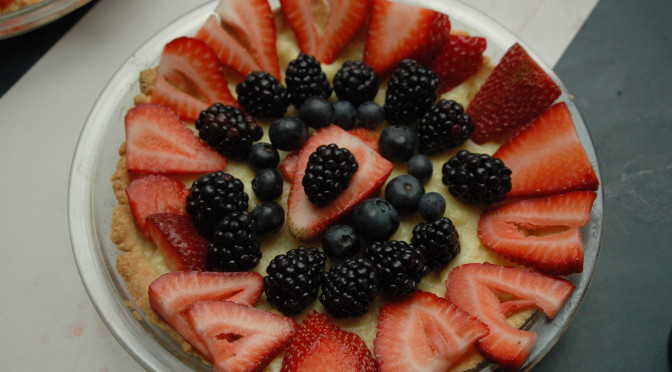 Ingredients
**Sweet Pastry Crust**
1½ cups all purpose flour
⅛ teaspoon salt
½ cup unsalted butter, at room temperature
¼ cup sugar
1 large egg, lightly beaten
**Pastry Cream**
1¼ cups milk
1 teaspoon vanilla extract
3 large egg yolks
¼ cup sugar
2 tablespoons all-purpose flour
2 tablespoons cornstarch
½ tablespoon liqueur(Grand Marnier, Brandy, Kirsch) (optional)
**Topping**
3 cups fresh mixed berries (raspberries, blackberries,strawberries, blueberries) or other fruit of your liking (kiwifruit, bananas, plums, pineapple, or melon)
**Apricot Glaze** (optional)
½ cup apricot jam or preserves
1 tablespoon water
Instructions
**Sweet Pastry Crust**
Mix together flour and salt, set aside.
Mix butter and sugar together until light and fluffy.
Beat eggs and add to butter mixture and mix well.
Add flour mixture and mix until it forms a ball.
Flatten the pastry into a disk, cover with plastic wrap, and refrigerate for 15-30 minutes or just until firm.
Grease tart or pie pan.
Evenly pat the chilled pastry onto the bottom and up the sides of the pan. Cover with plastic wrap and place in the freezer for about 15 minutes.
Preheat oven to 400° F
Lightly prick bottom of pastry crust with the tines of a fork or tooth pick.
Cook crust in center of oven on a larger baking pan and bake crust for 5 minutes.
Reduce oven temperature to 350° F and bake for additional 15 minutes or until dry and lightly golden brown. Remove from oven and place on a wire rack to cool completely before filling.
**Pastry Cream**
In a medium sauce pan, mix the sugar and egg yolks together.
Add flour and cornstarch together and then add to the egg mixture, mixing until you get a smooth paste.
Add milk and vanilla and just to boiling (just until milk starts to foam up.)
Remove from heat and add slowly to egg mixture, whisking constantly to prevent curdling. (If you get a few pieces of egg (curdling) in the mixture, pour through a strainer.)
Then pour the egg mixture into a medium saucepan and cook over medium heat until boiling, whisking constantly. When it boils, whisk mixture constantly for another 30 - 60 seconds until it becomes thick. Remove from heat and immediately whisk in the liqueur (if using).
Stir in vanilla extract.
Pour into a clean bowl and immediately cover the surface with plastic wrap to prevent a crust from forming.
Cool to room temperature. If not using right away refrigerate until needed, up to 3 days. Beat or whisk before using to get rid of any lumps that may have formed.
**Apricot Glaze**
Heat the apricot jam or preserves and water in a small saucepan over medium heat until liquid Remove from heat and strain the jam through a fine strainer to remove any fruit lumps.
**Assemble Tart**
To remove the tart from the fluted sides of the pan, place your hand under the pan, touching only the removable bottom not the sides. Gently push the tart straight up, away from the sides. The fluted tart ring will fall away and slide down your arm. If you want to remove the bottom of the pan, run a knife or thin metal spatula between the crust and metal bottom, then slide the tart onto your platter.
Spread a thin layer of apricot glaze over the bottom and sides of the baked tart shell to prevent the crust from getting soggy. Let the glaze dry (about 20 minutes). Then spread the pastry cream onto the bottom of the tart shell. Place fruit randomly on top of cream or in concentric overlapping circles, starting at the outside edge. After arranging the fruit, rewarm the glaze, if using, and gently brush a light coat on the fruit. If not serving immediately, refrigerate but bring to room temperature before serving. This fruit tart is best eaten the same day as it is assembled. Cover and refrigerate any leftovers.
Fruit Custard Tart
was last modified:
June 4th, 2014
by